Purple Sage has been American owned since 1973. We provide a variety of guest services including a breakfast buffet, laundromat, and a gift shop. We also provide FREE high-speed internet access in all of our guest rooms along with a coffee maker, refrigerator, microwave, TV/VCR/DVD with HBO, and FREE movie rentals. In addition, we have a large outdoor swimming pool, available truck parking, kennels and a hunter's game cleaning area.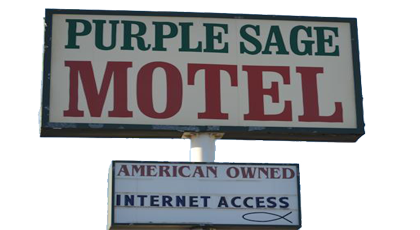 The Purple Sage motel also has 2 RV hookups. Whether you need lodging in Snyder, TX for one night or for six months, come to the Purple Sage Motel. We offer excellent services at competitive prices. Check out our ad in the Western Plains Area-Wide phone book in the Motels heading or Hotels heading.
This is a 51 Rooms motel features all the amenities expected in a first-class facility.
Each room is well-decoration in a restful delightful color scheme. Rooms have either king, queen or full-sized beds. A suite with a king-sized bed is also available. The building is handicapped accessible and offers non-smoking rooms.
Our commitment is provide all of our Guest with a world Class Experience . Your satisfaction is the greatest from of recognition we can receive. We hope to continue to exceed your expectations with our hospitality we offer. Please take the survey so we can better assist you in your future stay with us.
The Purple Sage Motel is conveniently located near the Coliseum in Snyder, Texas.